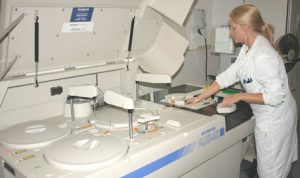 We can offer your pet:
A highly experienced and dedicated veterinary surgeon
An experienced registered veterinary nurse
Full surgical facilities
Fully independent, friendly and approachable local veterinary surgery
Modern anaesthetics with on site oxygen generation for critical care patients
State of the art diagnostic ultrasound imaging
Rapid X-ray imaging
Exceptionally high quality rapid external laboratory service, with next day (or even same day results for emergency patients)
Latest in house blood analysers for emergency treatment
Full dental facilities, including air drill and free dental advice
Micro-chipping and identity registration
Vaccination programmes
Routine Neutering
Nurse clinics
Weight Checks and Dietary Advice
Excellent referral contacts for further specialised treatment
Comprehensive 24 hour out of hours emergency service
Computerised clinical records, allowing immediate access to your pets records.
Free ample parking
For elderly patients we can provide screening tests, including blood profiles, urine analysis and blood pressure monitoring to ensure they are in the best of health and any diseases are detected early. For those pets to fragile to come to the surgery, we can come to you Home visits are available on request, please call the surgery for details.